Learn the Secret of How to Keep Your Child Captivated Reading While Having Fun!
Dear Friend,
There is nothing more frustrating than trailing through the extensive Kindle for Kids section in Amazon and finding nothing that you or your child will enjoy reading. Although it saddens me to say, present children's ebooks are quite frankly boring. Children are neither held captivated by the illustrations or learning any valuable lessons about life in the storyline of the book.
But don't worry. With this amazing new ebook Skateboard Sam, you will not only keep your kids captivated but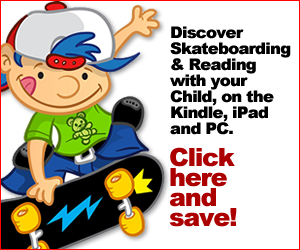 teach them important lessons!
Written in simple rhyming text and easy to understand language this breakthrough ebook teaches your children the importance of:
 – Listening to your parents!
 – Having good family values!
 – Staying healthy with exercise in this fun creative sport of skateboarding!
"Skateboard Sam is highly recommended for parents to download to their devices such as Kindle, iPad or PC. This gives them a wonderful opportunity to bond with their kids while telling the marvelous story of Sam – a kid who loves skateboarding. The graphics are just superb and nicely done. Go and download this. Your kids will love it." Rodney Garcia, USA  – (customer review from amazon.com).
Skateboard Sam can also be enjoyed in FULL COLOR on devices such as iPad and iPhone, and also your home PC or Mac, by downloading the relevant free Kindle software from Amazon.
Now only for $4.99  $2.99  at Amazon for a limited time only. Click here and save!